Loupe is a fine art digital print and imaging company specializing in archival pigment printing for exhibitions, editions, and reproductions. We offer a range of services to help our clients realize their projects, no matter the stage in which we get involved.
Our mission is to bring a trained eye to each step of our clients' production process. Through personal consultation, custom image editing, speciality papers, and the latest professional imaging technologies, we are here to serve as a personable resource for all print related needs. Our company thrives on collaboration, encouraging experimentation and pushing the limits of the machines and digital tools.
Loupe was founded by Chris Cunninigham in 2017 after 7 years of working in the print business. Chris cites David Adamson as his primary inspiration for his career, specifically his close relationships with clients, meticulous studio, and dedication to technical excellence. Chris studied, lived and worked in Washington DC prior to moving to Chicago in 2012.
In March 2020 Loupe became a Certified Canson Print Lab. This certification demonstrates Loupe's technical capability, gives us support in new material testing and joins us in a global network of professional digital fine art printers.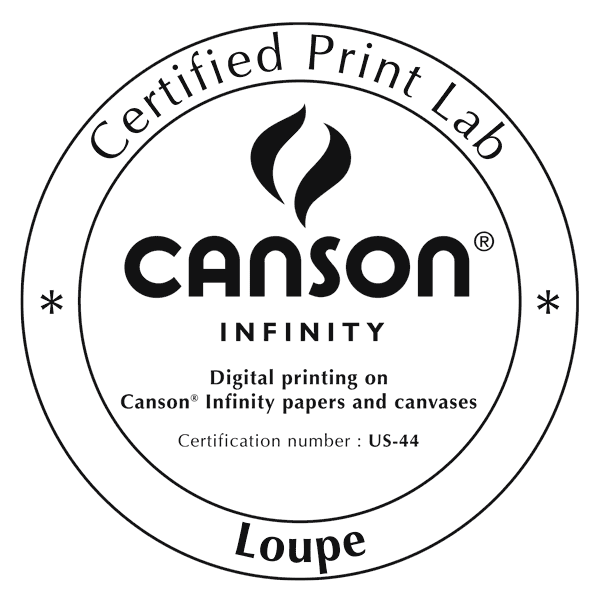 We are located in the Albany/Carroll Arts Building in the East Garfield Park neighborhood of Chicago, Illinois.
Please call prior to visiting for an appointment.
773-609-5344
Loupe was established by
Chris Cunningham
in 2017.
---
Contacts
Studio:
mail@loupeprint.com
Director:
chris@loupeprint.com
---
Job Submissions
A few steps for starting a print job:
1. Contact us! Simply call or send a quick e-mail telling us what kind of print you want to have made.
2. Send files using the UPLOAD FILES button below. You will be directed to our WeTransfer page where you can upload multiple large files at once.
→ If you do not already have a digital file, please contact us to inquire about scanning and reproduction services.
Terms & Conditions of Business
All of our archival pigment prints are printed with the Epson P20000 and P10000 up to 64in. wide with the latest Epson Ultra Chrome Pro inks. We use a range of premium inkjet fine art papers from Canson Infinity, Hahnemühle, handmade and others.
Upon delivery we guarantee all prints and their surfaces to be in supreme condition; we assure that only prints are delivered that are free of bends or scratches and whose preparation has been reviewed and approved. Please note that the boxes are for shipment and short storage only; we do not recommend archival storage of pigment prints in the packaging provided. If you wish to use a suitable storage box material, we can provide, charging extra.
For orders over $500. - 60% prepayment is due when placing the order; the total amount is to be paid on completion / pickup. Deliveries outside of USA are provided in advance with 100% prepayment; overseas packaging will be charged extra depending on the time/material required.
Disclaimer:
The company Loupe, LLC strives to complete the order in the requested time frame / appointment; in the event of extraordinary occurrences, e.g., machine failure, illness, difficulties in procuring material and / or extraordinary special requests of the customer, which result in changes within the production, deadlines can NOT be legally binding.
All originals delivered by the customer are handled with the utmost care. We assume that the customer holds all copyrights of the works to be reproduced or that there are duplication authorizations required for this purpose. If, retrospectively, third party claims are brought to us by missing copyrights, the customer will be held liable in full.
Loupe reserves the right to save the final data for free in order to facilitate the customer in a future print order, if that is not desired, we ask the customer to explicitly inform us; Likewise, we assume no liability for the data stored by us. Any liability claims of the customer are hereby expressly excluded.